Thanks for your interest in becoming an ambassador!

By promoting our ebook, you can earn cash for all the sales you make. It's super simple and only takes a few minutes to get started!

What's great is that we pay out a 50% commission for each sale your special link generates(I'll explain more about that later).
​
Ready to get started? Just follow these simple steps below and you'll be on your way to making sales!
​
1. Sign up for FREE at ClickBank.com
2. Fill in the required information and choose a 5-10 character nickname and a password.
3. Submit account registration and verify your email address.
​4. Once your account is verified, take your nickname and replace 'AFFILIATEID' in the link below with the nickname you created in step 2.
http://AFFILIATEID.stokedgpro.hop.clickbank.net


So if the username you created was "john1234", your link would look exactly like this...

​http://john1234.stokedgpro.hop.clickbank.net

Make sense?
5. Head to www.Bitly.com and paste the link you just made into the "shorten" field (This step is optional but helps you keep track of how many people are clicking on your link).
6. Once you have your link, copy it and head over to your social media site. Paste the link where your followers or friends can see it. For example, Instagram profile, YouTube video description or annotations, Facebook status, Tweet, etc.
​7. Check that your link is working by clicking it from where you just placed it. This should redirect you to our website. Then click "Buy Now" to navigate to the order form and scroll to the bottom. You should see a small line of text that says:
[ affiliate = YourNicknameHere ]

If it shows your nickname, then you're good to go! If it doesn't work, repeat the steps above.
​Now, anytime someone clicks your link and makes a purchase, you'll get a commission!
​
8. Share the link to more places! Check out our full guide for a more detailed tutorial on each step.
9. You can keep track of your sales by visiting www.ClickBank.com and logging in.
As mentioned before, you can keep track of how many clicks your link is getting by using Bitly or ClickBank
If you're looking for examples or posting material, check out all of the images and materials we have available for you to take advantage of. You can post or share these images along with your link.

​And that's it! If there's anything you didn't understand or anything you need help with, don't hesitate to shoot us a message and ask your questions!

​We look forward to having you as part of the team:)
Powered by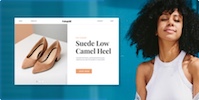 Create your own unique website with customizable templates.